BRIOS RESTAURANT AND PIZZERIA
Brio's, a local Phoenicia Restaurant, has been proudly serving breakfast, lunch and dinner since 1973. Our collection of traditional homemade recipes has permitted us to provide our customers with a menu that is both eclectic and extensive. Our breakfast menu alone ranges from a traditional Italian breakfast to a variety of country skillets and classics like Eggs Benedict. Our famed crispy thin crust Neapolitan pizza is not the only treat that comes out of our wood fired ovens; but is accompanied by delicious homemade breads as well as a broad spectrum of steaks, fish and other entree items. We welcome you to come and experience our vast array of specialties, as we are sure you will delight in your stay.
Breakfast Specials
SPINACH MUSHROOM CHEDDAR OMELETTE
Topped with Sausage Gravy Served with Home fries and choice of Toast
9.95
CRAB CAKE BENEDICT
Crab cake with sauteed Spinach over house made Biscuts topped with Old Bay Scallion Hollandaise served with Home fries
12.95
MIXED BERRY 4 GRAIN PANCAKES
With Raspberry Butter
9.95
Lunch Specials
NASHVILLE STYLE "HOT CHICKEN"
SANDWICH
Crispy Fried Chicken in a Firey Pepper Flour Blend, served on a Brioche Roll with Mayo, Lettuce, Pickle, and American Cheese with Fries
11.95
HOLIDAY TURKEY SANDWICH
grilled turkey, stuffing, provolone on rye, served w/ french fries, cranberry sauce & gravy
11.95
LAMB SLIDERS
Lamb Burgers with Curry Onion Marmalade, Fresh
Spinach, Cucumber and Feta Cheese served with Sweet Potato Fries
11.95
PASTRAMI PANINI
Rosemary Garlic Focaccia bread with a beer pimento cheese and caramelized onions
9.95
Dinner Specials
APPETIZERS
CRISPY FRIED CALAMARI
Served w/ onion straws & lobster ginger sauce
10.95
JALAPENO POPPERS
Cured Jalapenos stuffed w/ Cream Cheese, breaded & deep fried
7.95
STEAMED MUSSELS
Done in Guinness Stout with Fresh Herbs and Cream served with Garlic Bread
9.95
CRAB CAKES
With a Fire Roasted Jalapeno Lime Tartar Sauce.
9.95
BUFFALO EGG ROLLS
Shredded buffalo chicken, sautéed carrots and celery, topped with ranch hot sauce dressing with Mexican Cole slaw
9.95
ENTREES
BEEF YAKATORI LETTUCE WRAPS
Grilled Marinated Flank Steak Skewers served with
Cucumber, Carrot and Cabbage Slaw topped with
Sriracha mayo, Roasted Peanut, and Wasabi peas
13.95
BBQ RIBS
Served with Broccoli Mac and Cheese
15.95
GRILLED SWORDFISH
Served with Chickpeas and Kale in a Wood Oven
Roasted Tomato Sauce
15.95
BRIOS SURF N TURF
Grilled NY strip with a crab cake topped with shrimp and scallions hollandaise served with roasted potatoes and asparagus
24.95
WOOD OVEN BAKED MAC AND CHEESE
Made with apple wood smoked bacon, caramelized onions, and a blend of gouda and Jarlsberg cheeses topped with crispy bread crumbs
7.95
Gloria is here w/ the Macaws for lunch. If your lucky you can hold them!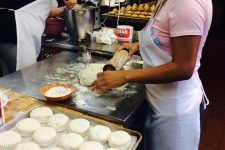 Our bakers proudly make our homemade biscuits from scratch! Try one in our Eggs w/ Biscuit & Sausage Gravy Dish on our breakfast menu! We open for breakfast at 7am everyday!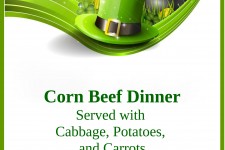 Our delicious Corned Beef dinner special is here just in time for St. Patrick's day. Join us on either side at Brio's or Sportsman's, to celebrate like the Irish Folks do! May your day be touched with a bit of Irish luck, and your stomach be full of Corned Beef!