BRIOS RESTAURANT AND PIZZERIA
Brio's, a local Phoenicia Restaurant, has been proudly serving breakfast, lunch and dinner since 1973. Our collection of traditional homemade recipes has permitted us to provide our customers with a menu that is both eclectic and extensive. Our breakfast menu alone ranges from a traditional Italian breakfast to a variety of country skillets and classics like Eggs Benedict. Our famed crispy thin crust Neapolitan pizza is not the only treat that comes out of our wood fired ovens; but is accompanied by delicious homemade breads as well as a broad spectrum of steaks, fish and other entree items. We welcome you to come and experience our vast array of specialties, as we are sure you will delight in your stay.
Breakfast Specials
Mandarin Orange Pecan Crunch French Toast
With Pineapple Whipped Cream
8.95
Smoked Mozzarella Omelette
With Sun-Dried Tomatoes, fresh Tomatoes and Basil Pesto with choice of Fruit or Home Fries
9.95
Pastrami Scrambler
Topped with Gouda Cheese and Scallions Open-face on Rye Toast
10.95
Lunch Specials
Mikes Meatloaf Sandwich
served on toasted sour dough peasant bread, with lettuce, tomato, onion, bacon, and chipotle mayo, served with onion rings
8.95
Catfish Po-Boy
cornmeal crusted w/ spicy remoulade, fresh lettuce and tomato on a toasted sub roll, served w/ homemade chips
12.95
Curry Chicken Salad
With Dried Cranberries and Candied Pecans served in a Pita or over Mixed Greens with Our House Vinaigrette
10.95
Brio's Zucchini Parm
grilled zucchini topped w/ portabellas, spinach, roasted peppers, caramelized onions, fresh mozzarella and marinara sauce. Served either on a sub roll or over pasta!
12.95
Baba Ganoush Wrap
eggplant w/ grilled zucchini, portabellas, onions, spinach and roasted peppers, served w/ salad or fries
10.95
Dinner Specials
APPETIZERS
Crispy Fried Calamari
served with onion straws and Lobster ginger sauce
10.95
Pierogies
topped w/ caramelized onions & apples, served w/ Creme Fraiche
9.95
Chipotle Mussels
10.95
Baba Ganoush
served w/ soft pita chips
8.95
ENTREES
Blackened Catfish
Topped with Pontchartrain Sauce made of Bell Peppers, Onions, Celery, Mushrooms, and Shrimp with White Wine and Butter served with over Rice
15.95
Grilled Teriyaki Flank Steak
w/ a scallion sesame noodle salad & steamed broccoli
(vegetarian option available)
16.95
Cheese Tortellini
w/ a mushroom cream sauce, goat cheese & chive oil
14.95
Fish and Chips
Beer Battered Cod with Waffle Chips and Cole Slaw
13.95
Beer Braised Baby Back Ribs
With Chipotle BBQ sauce served with Sweet Potato Fries and Braised Kale
14.95
Sweet Chili Glazed Pork Tenderloin
served w/ butternut squash puree, sauteed spinach and corn fritters drizzled in chipotle honey
15.95
Gloria is here w/ the Macaws for lunch. If your lucky you can hold them!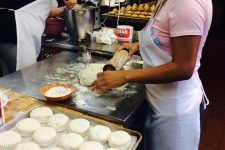 Our bakers proudly make our homemade biscuits from scratch! Try one in our Eggs w/ Biscuit & Sausage Gravy Dish on our breakfast menu! We open for breakfast at 7am everyday!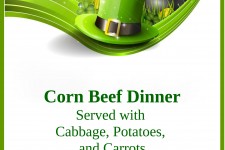 Our delicious Corned Beef dinner special is here just in time for St. Patrick's day. Join us on either side at Brio's or Sportsman's, to celebrate like the Irish Folks do! May your day be touched with a bit of Irish luck, and your stomach be full of Corned Beef!